About the Bobrick Corporation
Bobrick was founded in 1906 by George Augustus Bobrick. In those days it was called the Bobrick Chemical Company. In 1946, the business was purchased by William S. Louchheim, and it has remained in the family ever since. Matthew Louchheim is the current member of the family to be at the helm.
Bobrick is headquartered in North Hollywood, California. They have seven other divisions that stretch from the United States, Canada, and the United Kingdom.
Table of Contents
Bobrick Divisions
Bobrick is the head of the spear, acting as the umbrella brand to four other industry-related brands. Privada, Koala Kare, Gamco, and Thrislington Cubicles. The following is a little more info about these brands and the products they provide.
Privada
According to the Privada section of the Bobrick website, this product is meant to satisfy the needs of upper-class type restrooms, or restrooms expected to be present in "Class A" offices.
These units are overhead-braced mounting systems and use a minimalist approach to support design and hardware. Materials available for this product are HPL and Wood Veneer Laminate.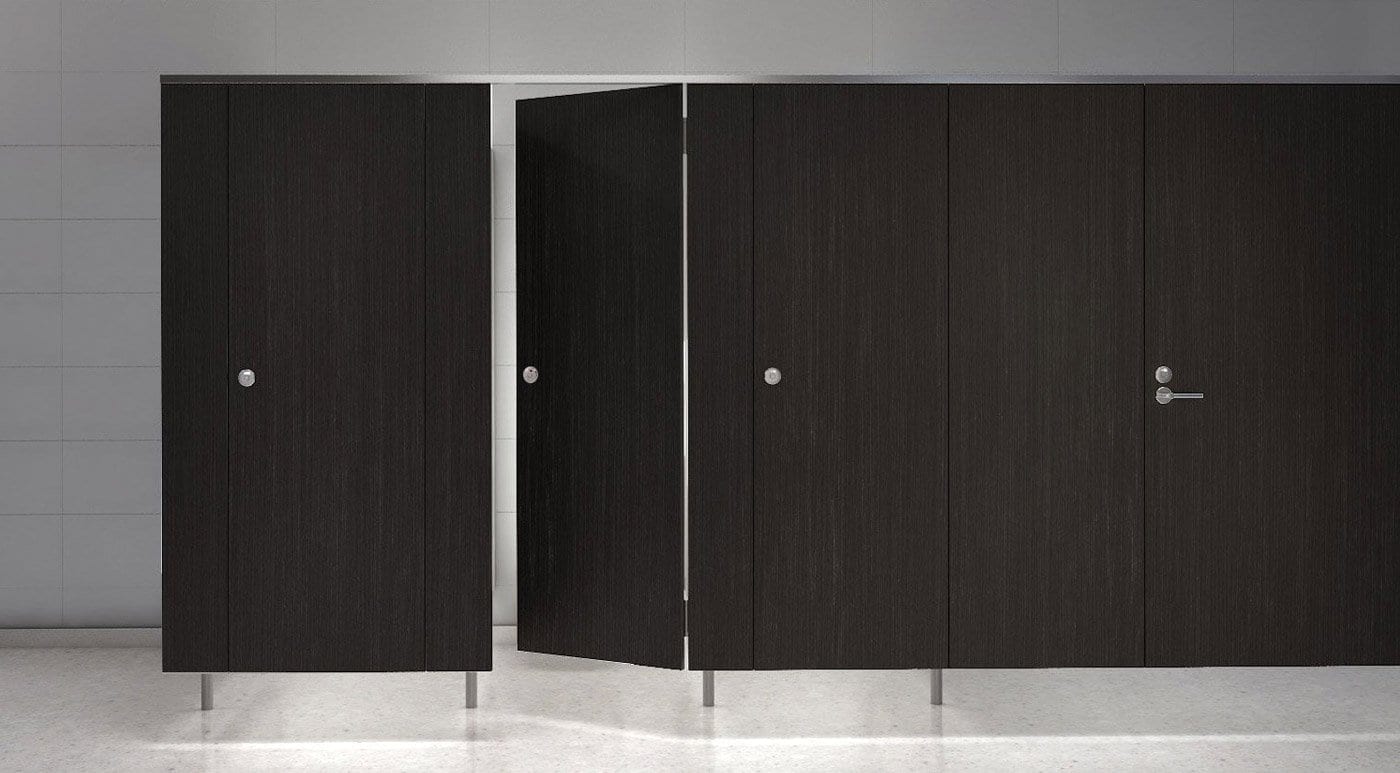 Koala Kare
Of all the things that will be discussed in this article, this product will be the most recognizable for laymen who are restroom users only, rather than builders or designers. That's largely due to a Koala Kare Baby changing station being present in public restrooms (seemingly) everywhere.
If you've never seen one, these are wall-mounted baby changing stations that flip up against the wall in an open area in the restroom. It would be most common to see them white in color, or brushed stainless steel, but other colors are available.
Koala Kare also manufactures other baby-related products such as a diaper bag hanger to be mounted nearby a changing station as an accessory. Another accessory that is available for these stations is diaper disposal pouches to keep odors to a minimum in the restroom's trash.
They are also manufacturing the Stowe High Chairs for restaurants, which are used to keep youngsters in place at the table when the family is out to eat.
Gamco
Gamco is the brand under Bobrick that fabricates stainless steel restroom accessories that can be found in commercial bathrooms. Nearly everything you can think of that you'd need as an accessory for a restroom- Gamco makes.
Many of the products fabricated by Gamco are:
Toilet Paper Dispensers
Paper Towel Dispensers and Waste Combo Units
Stainless Steel Handrails
Trash/Waste Receptacles
Sanitary Napkin and Tampon Dispensers
Hand Dryers
Mirrors, Seat Cover Dispensers
Custodial Accessories
Security Products
Shelving
Like Koala Kare, Gamco also runs its own line of baby changing stations.
Thrislington Cubicles
In the UK, Thrislington Cubicles offers a range of products to satisfy the requirements expected in restrooms spread from the UK to Greater Europe. These cubicles are top-of-the-line, integrating the latest technological breakthroughs into each of their systems.
The most recent is their touchless system. When a user approaches, sensors tell the doors to open, and when the user enters the cubicle, the door then closes and locks on its own. From the inside, the reverse happens when the user waves their hand in front of the sensor, allowing the user to exit the stall.
This is one among several innovations that Thrislington produces and incorporates into its cubicle systems.

Bobrick Partitions, Accessories, and Other Products
Sub-Brands aside, Bobrick produces a wide array of washroom equipment, accessories, and its share of toilet partitions. For our purposes here, we'll concentrate on their multiple lines of partitions.
Toilet Partitions
As far as their toilet partition systems are concerned, they're broken down into product line sections. Privada is counted as among these series of partitions, but we'll exclude it here as it's coined by Bobrick as a separate brand rather than a product line.
Evolve Cubicles
Evolve Cubicles are based on European designs, offering greater privacy and fewer gaps than traditionally found in those found outside of Europe. Panels are 72" tall with single-piece dividers, held together by an overhead braced mounting system.
DuraLineSeries CGL
The DuraLineSeries CGL partitions offer gap-free construction and are geared toward wet and heavily trafficked areas. These are available in multiple sizes and can be floor-anchored, overhead-braced, mounted floor-to-ceiling, or ceiling-hung.
SierraSeries SCRC
These are recommended for high-traffic and vandalism-prone areas due to the tough nature of the SCRC (Solid Color Reinforced Composite). The chosen color is through the material, better at hiding scratches or other mild forms of damage or wear. They are available in all 4 mounting styles found in the DuraLinSeries CGL partitions.
Designer Series HPL
Due to the nature of the materials involved, this is a better choice for those working under a tight budget. The panels are a blend of steel at the core covered in HPL. This style can also be mounted in any of the four mounting options.
Budget HPL Series
There are two budget-friendly subgroup product lines being offered by Bobrick here, and they are the MetroSeries and the ClassicSeries. These are made from HPL, and the major difference between the two styles here is the mounting hardware styles. The Metro has concealed hardware and the Classic is through-bolted. Mounting options are floor-anchored, overhead-braced, and ceiling-hung.
What Makes Bobrick Washroom Equipment Stand out from Their Competition?
The first thing that makes them stand out from its competition would be its abundance of products. Bobrick Washroom Equipment makes nearly everything that their sub-brands produce, and simultaneously reaps the benefit from the success of their other brands. There isn't anything found as an accessory in a washroom that they don't make.
Their capability and size also help them to easily cater to all classes of buildings or offices (Class "A", "B", "C", etc.), and their reach allows them to do so worldwide.
Industries Where You'll Find Bobrick Products
Because of the many accessories and toilet partition styles and materials, they have a good fit for any commercial or industrial application. Malls, Class A offices, Class B offices, Schools, government buildings, or just about anywhere a public restroom is required, will likely have one of their products present in one way or another.