There are quite a few large suppliers of toilet partitions out there, each having its own flair or unique approach to its products. Hadrian Manufacturing Inc. is no different in that regard, but have a way of keeping products basic in a charming light.
As many vendors for products of this type add levels of complexity or options that could be viewed as cutting edge, there is an appeal with the product that is manufactured by Hadrian that keeps commercial, professional, and industrial, designers and architects coming back for more. 
Table of Contents
About Hadrian Manufacturing Inc.
Before being rebranded to Hadrian Manufacturing Inc., the business was a part of the toilet partition division of the Westeel Corporation. The rebranding took place in 1983 when the division was purchased by Keith McAlpine and Tom Warren, who took the business to new heights in the toilet partition and locker industries.
Today, the business is under new leadership but is still a thriving competitor in the industry. They have expanded to three North American facilities and are represented globally across Europe and Asia.
Products Fabricated and Manufactured by Hadrian
While there are companies who toss a host of different toilet partition products to the market and try to see which one sticks, Hadrian has stuck to their proverbial guns and offers what has continuously worked for them over the years.
There are primarily three ultimate products that they have to offer in terms of toilet partitions, broken up by material type. They are Stainless Steel, Powder Coated, and Solid Plastic partitions. However, within each category of partition comes an array of options that are nestled into each type.
Hadrian Manufacturing also involves itself in the Locker industry with an equal amount of vigor, offering several products that tackle different purposes.
The following will be focused on their Toilet Partition lines. For every material being used, and for every style, there are also matching urinal privacy screens available as an option.
Powder-Coated Toilet Partitions
Powder-coated partitions come in the standard four mounting styles (floor-mounted, overhead-braced, floor-to-ceiling, or ceiling-hung). Also, there are three series to choose from. These three differ in that their door and panel height changes per system.
The Standard Series
The standard series of their powder-coated systems consist of 58" doors and panels. This style is available in all four mounting styles. These are hung 12" off the floor.
Elite Series
The Elite Series doors and panels are larger than the former, measuring 64" tall and being hung either 6" or 9" from the floor. The channel work of this design eliminates all sightlines and gaps, offering more privacy than the Standard Series. All four mounting styles are available for this series.
Elite Plus System
This is the system that offers the maximum amount of privacy out of the three series. The doors and panels are 72" tall and are hung 6" or 9" from the floor. The continuous channel design conceals all sightlines and gaps, but it only comes in three of the four mounting styles. Overhead-braced, Ceiling-Hung, and Floor-to-Ceiling.
Stainless Steel Toilet Partitions
Just like Hadrian's Powder Coated partitions, the standard options all have the four mounting styles available and only differ when dealing with styles. Three kinds of finishes can be selected in the stainless option. They are #4 Brushed, Embossed, and a combination of the two- embossed on the interior and the #4 polish on the outer skins of the doors and panels.
Additionally, the Stainless-Steel Partitions have three series (just like the Powder Coat Partitions). Standard (58" doors and panels), Elite (64" doors and panels), and Elite Plus (72" doors and panels).
The aluminum continuous channel used in the Elite and Elite Plus series is polished to match the appearance of the stainless-steel finish while serving its purpose to conceal any sight lines. 
Solid Plastic Toilet Partitions
Hadrian's Solid Plastic Partitions are made from high-density polyethylene (HDPE). This material is one solid color throughout, and won't crack, break, dent, or flake, as other materials might. Because of the tough nature of this material, it works well in schools, airports, parks, or anywhere you could think of that has high traffic and a high probability of graffiti or vandalism.
Unlike the stainless and powder-coated units, there are no sub-styles to choose from, offering greater privacy or different heights. These HDPE units are available in three mounting styles. Headrail-Braced, Ceiling-Hung, and Floor-to-Ceiling mounting styles are available.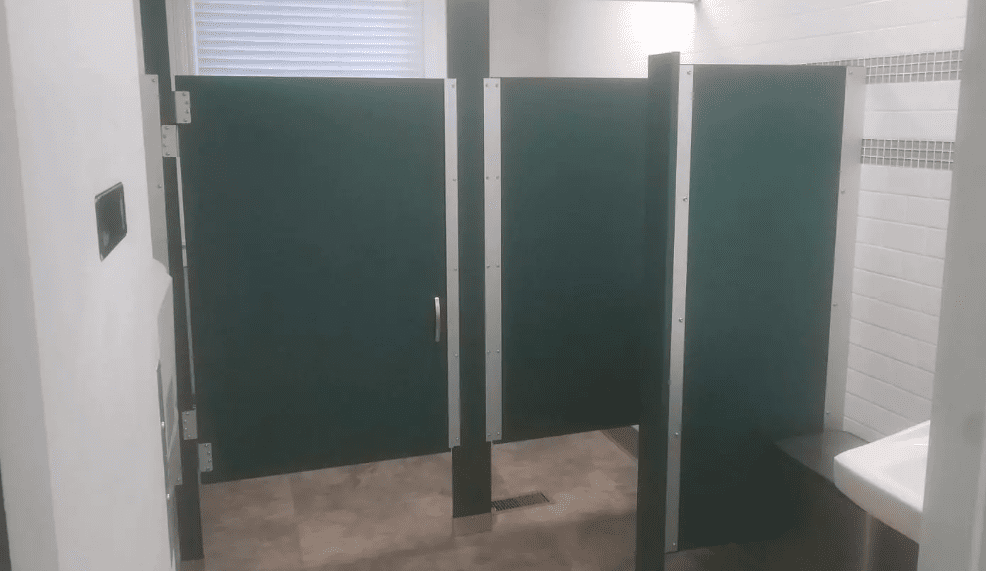 How Does Hadrian Stand Out from Their Competition?
There is one thing that Hadrian Manufacturing can boast about that no other company can realistically claim. They claim to be the first business to include powder-coated galvanized steel toilet partitions in their product line.
Being the first to try anything is a risk, but with this risk came a hearty reward. Powder-coated partitions are a go-to product in the industry these days, being offered by any of the big manufacturers of toilet partitions. To be the first to have done it is an achievement indeed!
There is something else that warrants inclusion in this section. Hadrian uses recycled materials wherever it can, regardless of the product or material type. No, they are not unique in this, as competing companies may do the same, but their efforts to use recyclables wherever possible are a bit more aggressive than others appear to be.
Where to Find Hadrian Toilet Partition Products?
They've been around for a good stretch of time, and in that period have landed some big fish. The JP Morgan Chase Building in New York, the M&T Bank Stadium, the Bell Center in Montreal, the Pepsi Center in Denver, and the BMO Field in Toronto, to name a few.
The majority of the materials and styles available by Hadrian are tough and capable of withstanding wear and tear that comes with high traffic or busy restrooms. So, you'd see them in stadiums, schools, or amusement park-type settings. However, their good looks and the lack of sightlines for some options serve office settings comfortably. 
Places like the Metro Toronto Convention Center, Meadowvale Business Park, Manulife Center in Toronto, and the Royal Ontario Museum, have all opted to go with partition systems fabricated by Hadrian.