While some businesses try to tackle every angle of the toilet partition business, some carve out their niche and stay in that groove. In a sense, Scranton Products tends to be the ladder, offering a particular style of toilet partition for some very good reasons.
Scranton Toilet Partitions are made from only one type of base material, and that is HDPE (High-Density Polyethylene). Not only is this material a focal point because of its good looks but for several health-related reasons as well.
Before diving into the products and their details, here's a little more about the Scranton Products Company.
About Scranton Products
Scranton Products has been making toilet partitions from their material of choice (HDPE) since 1978, but in those days the company was called Santana Products. After being acquired by Comtec in 2006, Santana Products was rebranded alongside Comtec and a competing business that was also acquired called Capitol Partitions.
These were all placed under one umbrella- the Scranton Products brand, which is now a part of the Azek Company. Today, Scranton Products is based out of Scranton Pennsylvania.
Why Only Use HDPE?
Scranton lets all of the other manufacturers fight over customers who are looking for powder-coated galvanized (or galvanneal) steel, stainless steel, laminate, and phenolic material types. They have been consistent throughout the years in dealing with HDPE toilet partition systems.
HDPE is Aesthetically Pleasing
Fresh off the press, HDPE is an extremely attractive material, available in deep, rich colors that run through the material (or in this case, the doors, and panels). Scranton offers 27 color and texture options for their partitions.
HDPE Has a Workable Surface
The surface is a blank slate for the Scranton design team. There are several different patterns available for the doors as well as the wall panels. Grooves, embossments, or other designs can be formed or milled into the plastic surface.
HDPE is Tough and Durable
Stain-resistant, scratch-resistant, and unavailable to rust, HDPE has proven to be a long-term option for businesses everywhere, whether it be for toilet partitions, lockers, or other pieces of industrial equipment. This is often the material of choice regarding the potentially harsh environment of a commercial or otherwise public restroom.
HDPE is a Health-Conscious Material to Use
Scranton is taking full advantage (as they should) of the properties involved with HDPE that help protect us from the spread of germs. Germs in a public restroom have always been on the mind of a user, but not nearly as much as it has been since the onset of COVID, and the potpourri of offshoots of the virus that we're still contending with today.
HDPE is resistant to mold growth, it is power-washable, steam cleanable, and naturally resists bacteria, moisture, mildew, and odors. With most bacteria, HDPE inhibits the spread, growth, and reproduction on every surface within 24 hours. All is done without the use of disinfectants or other chemical-based products.
Sustainability and Green Solutions
HDPE can be produced and reproduced using recycled materials.
Scranton Toilet Partitions and Other Products
Overall, there are three lines of toilet partitions available from Scranton Products, as aforementioned, all of which are made from HDPE.
Eclipse Partitions
The Eclipse line of partitions is a floor-mounted overhead-braced style, using a minimum sight design for additional privacy. Short of the Occupied/Unoccupied latch, all of the hardware is hidden, giving the Eclipse a sleek and sophisticated aesthetic.
The sizes available for this line are the standard 55" doors and panels, 62" doors and panels, and the extra-high 72" doors and panels.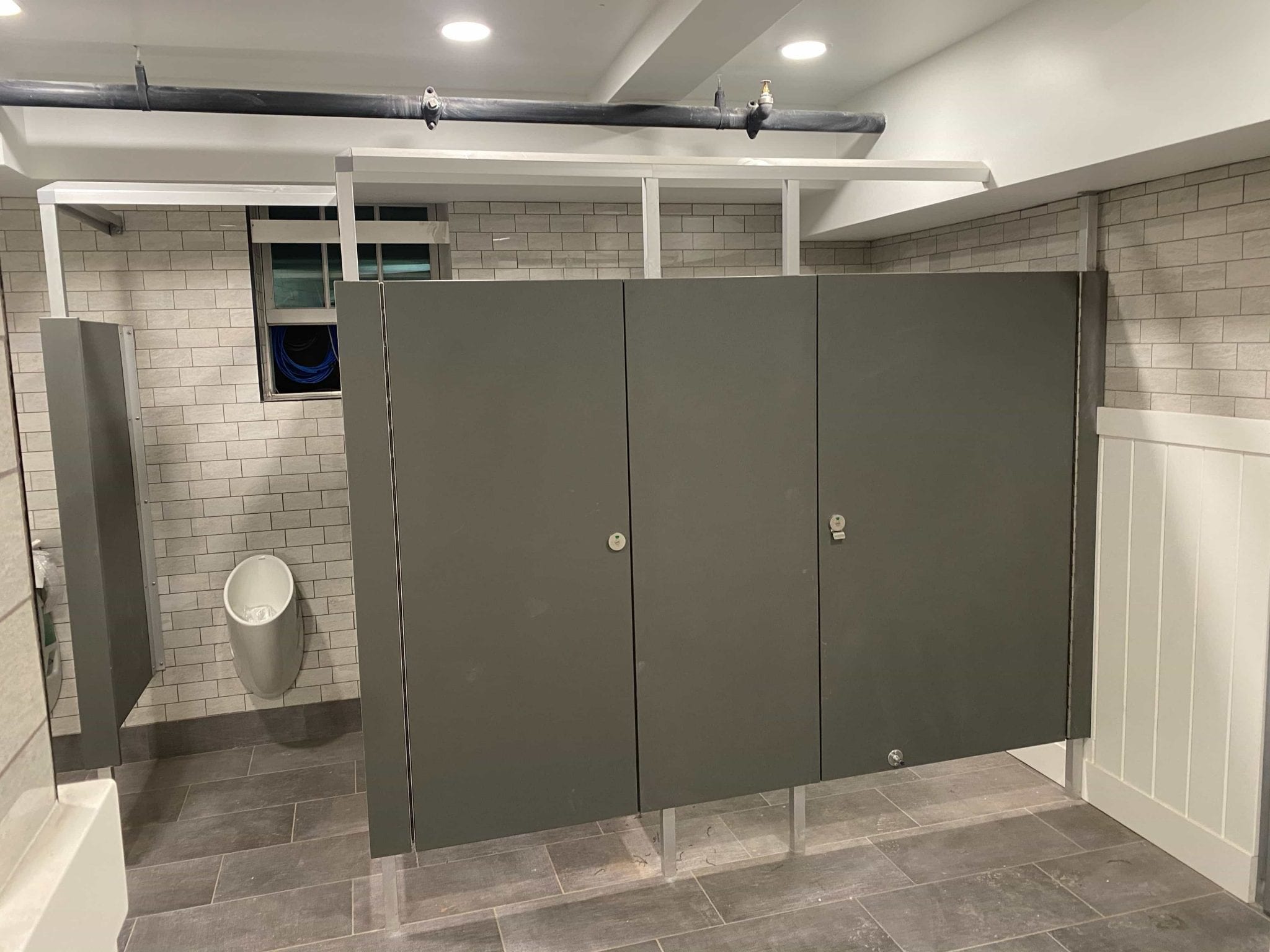 Hiny Hiders
Of the three toilet partition products Scranton provides, this is the most versatile in terms of available mounting styles. Floor-to-ceiling, floor-mounted overhead-braced, and ceiling-hung styles are available for the Hiny Hider line. Shiplap cut edges remove the use of hardware to eliminate sightlines but are an option rather than a standard in this model.
This line comes with customizable partitions and engravable doors and offers three ADA-compliant configurations. The sizes available for this line are the standard 55" doors and panels, 62" doors and panels, and the extra-high 72" doors and panels.
Aria Partitions
When ultimate privacy is a customer's concern, the Aria Partitions are there to serve. This is a full-height floor-to-ceiling design, that essentially creates a wall of toilet partition doors. Rather than having an opening over the door as is common with most floor-to-ceiling designs, these are closed off across the top.
The door also hovers a small space over the floor as would any other door in the building, giving the stall a room-like appearance and feel. The panels and doors are engravable and customizable, and the design uses the hidden hardware approach, keeping things looking uniform and sharp.
Privacy & Health Barriers
Continuing with the HDPE restroom products theme, Scranton also has privacy and health barriers to be positioned between urinals, sinks, and hand dryers. These can be color matched to existing partition systems or can be purchased alongside your choice of toilet partition, ensuring that the color is an exact match between the partitions and the barriers.
How Scranton is Unique
Scranton Products has a certain flair that other brands can't quite match. That is a focus on one area of expertise, rather than having to carve up production materials as a struggle to keep up with competitors. They utilize HDPE wherever they can and do well while doing it.
Unlike most companies that furnish buildings with partitions, Scranton offers to send a free sample of the material to a customer, so the customer can get a sense of the quality, look, and feel of the plastic. This isn't something you'd commonly see others offering.
Their website scrantonproducts.com is filled with resources and avenues of information about their products, their reasoning behind why they chose one type of material over all others, and other pieces of information that one would find useful. I included this because this site happens to feel much more user-friendly than others of its ilk, and you can find the info you're interested in on-site, rather than forcing you to call for more info.
Barrier variety is something that sticks out with this company. Other companies may have urinal barriers, but Scranton goes a bit further and includes barriers to go in-between sinks and hand dryers as well. It's a nice touch that gives a "thought-out" appearance in a restroom.