No matter the industry, every company has its unique way of doing things for its own set of reasons. The same can be said for toilet partition manufacturers.
Flush Metal Partitions don't necessarily have products that jump out at you as new, ultra-innovative, or cutting-edge in a way that differs from their competition. But what they do, they've been doing for a long time and they have confidence in their product that is rarely on display by other businesses. 
Table of Contents
About Flush Metal Partitions
Flush Meta Partitions has been in business for over 50 years and is currently headquartered in Melville New York. They have long since served their customer base through the manufacturing of restroom partitions, showers, urinal screens, and dressing rooms.
If you'd like to learn more about the products and services that Flush Metal Partitions provides, you can head to their website flushmetal.com.
Flush Metal's Toilet Partition Product Lines
Flush separates its product lines via the style used to hang or mount the partitions. Below are the product lines, along with the available materials used for each type.
Steel or Stainless-Steel Panel Construction
Each panel with metal skins is constructed with a honeycomb core. These cores are bonded to the panel's interior, making the panel or door more rigid, yet allowing it to remain light enough for assemblers to handle without strain.
The panels are then welded together and ground to a uniform finish, particularly on door areas or any possible point of human contact. Stainless steel systems are ground and then polished to match the existing grain. Galvanized steel is ground flush to ensure that there are no protrusions or pits visible after being powder coated.
Flushite (Overhead Braced)
The Flushite overhead braced door system comes in the following material types:
22 Gage #304 Stainless Steel faceplates with a #4 finish (Panels are also available in 20 Gage).
22 Gage Galvanized Powder Coated Steel faceplates with a selection of 14 standard colors, though custom colors are available (Panels are also available in 20 Gage).
Plastic Laminate units use doors and panels that are "1.00 thick and are available in nearly 40 colors. The construction of this material consists of the laminate being adhered to either side of solid particle wood via a high-quality adhesive, then placed under great pressure to ensure a strong and long-lasting product.
Solid Plastic units are "1.00 thick with ¼" radiused edges. 12 standard colors are available for this material. The surface of this material is textured, making it easy to clean yet remains scratch and chip-resistant.
Phenolic doors are no less than ¾" thick and the panels are ½" minimum. This material is available in nearly 40 colors. The panels are constructed using a phenolic core, then covered with a high-pressure melamine matte finish surface.
Flushart (Floor Anchored)
The Flushart floor-anchored toilet partitions come in fewer material types than the Flushite systems.
Stainless Steel- Same material details as above.
Powder Coated Steel- Same material details as above.
Plastic Laminate- Same material details as above.
Flushung (Ceiling Hung)
The Flushung ceiling-hung systems differ a little from their other lines due to the inclusion of a metal shower divider. Because of the shower divider, this unit can serve toilet partition purposes as well as provide privacy for showers (locker rooms for example).
Stainless Steel- Same material details as above.
Powder Coated Steel- Same material details as above.
Plastic Laminate- Same material details as above.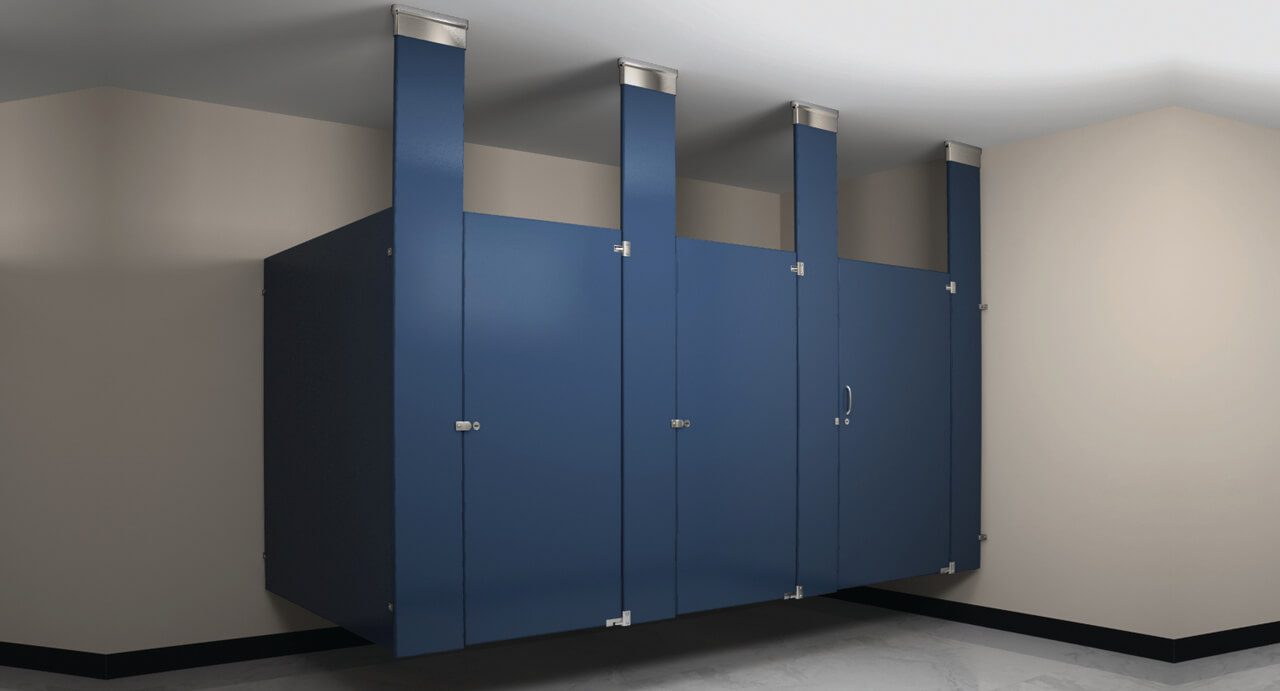 Floor to Ceiling
Their floor-to-ceiling systems offer more stability, but require the presence of structural support in the ceiling.
Stainless Steel- Same material details as above.
Powder Coated Steel- Same material details as above.
Plastic Laminate- Same material details as above.
Solid Plastic- Same material details as above.
Phenolic- Same material details as above.
Urinal Screens
The urinal screens manufactured by Flush Metal Partitions come in a variety of styles, catering to any situation.
Wedge Type (WT)
Floor Supported (FS)
Post Supported (PS)
Wall Hung (WH)
Wall Hung Government Screen (WH-G)
Materials used for the urinal screens are primarily powder-coated galvanized steel, but other materials types are available upon request for most styles. You can learn more details about each of these types of urinal screens on their featured product page.
What Makes Flush Metal Partitions Stand Out from the Competition?
There are a few things that they've got going on that make them stand out better than others in terms of their overall business. What immediately comes to mind is their overtly advertised warranty policy.
They've got an entire page dedicated to it on their website. If nothing else, it shows that they are confident in the workmanship and consistent quality of their product.
Flush is also forward about its environmental impact minimization, which is made evident in its "Leed" section of the site. They use post-consumer recycled materials for their steel and stainless-steel products, powder coats and paints are EPA-approved, and efforts are made to buy their building materials within the United States.
Another thing, albeit a small but nice touch… They have installation instructions available to view or download as a .pdf. The "Spec Generator" is also a nice touch for those who are unsure of the best material types that should use for their project.
What Industries Use Partitions from Flush Metal?
The beauty of having a variety of styles and also offering a variety of material options is that you open the door to nearly any industry. Materials such as solid plastic, phenolic, and powder-coated steel are great for heavy traffic areas or perhaps areas that are prone to vandalism.
Stainless models would be better suited for higher-end office buildings due to their sharp appearance and fine-grained polish. With the combination of hanging styles and materials, any industrial, educational, or commercial building would do well with its systems.
Bars, cinemas, schools, offices, museums, restaurants, and factories are just a few of the kinds of places you'd see products built by Flush Metal. Though in situations where color matters, you may wind up seeing the plastics being used over the metals due to the greater option of color selections.