Floor-to-Ceiling partitions are built exactly how they sound. The pillars between each door are mounted to the floor as well as the ceiling.
Not only does the entire system benefit from the added support of both the top and bottom of the pillars being mounted, but the doors themselves have a more solid feel from a more rigid base of operation.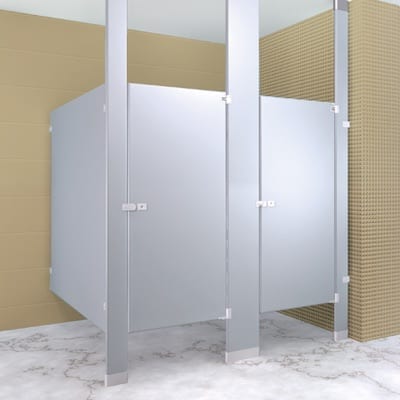 What are the Pros and Cons of Floor-to-Ceiling Toilet Partitions?
Needs are different, buildings can differ, and requirements slide from customer to customer. Because of this, the pros and cons for each partition type need to be chewed on a little by procurement departments.
Floor-to-Ceiling Partition Pros
This is considered the best style of toilet partition for lower-hung ceilings.
With the pillars mounted to the floor and the ceiling, this system offers a very stable and resilient set of partitions.
Because of the space between the bottom of the wall and door panels to the floor, people entering the bathroom can see from afar whether the stall is occupied or not, without embarrassingly bothering the user.
This style is a great choice for vandalism-prone areas, as the rigidity will help to deflect and remain stable against incoming attempts at damage.
Though this may change from person to person, many people find this to be a more aesthetically pleasing choice when compared to other forms of toilet partitions.
Floor-to-Ceiling Partition Cons
Because of the rigidity that makes this system great, making adjustments post-mounting can become extremely difficult.
Like the Overhead Braced Partitions, Floor-to-Ceiling mounted partitions are not recommended to be installed on floors that do not allow drilling to mount the base of the pillars.
Support structures require sturdy mounting surfaces such as steel beams or floor joists from an overhead level. This might slightly alter the installation location if none are easily accessible, or would require additional work to get everything the way it needs to be.
These are not compatible with suspended ceilings.
Who Uses Floor-to-Ceiling Mounted Partitions?
As aforementioned, this type of toilet partition is more rigid than other styles and can withstand more punishment that would come its way as years go by. This trait makes it a wise choice to use in areas where graffiti is more prone to happen, or in older buildings that may have lower ceilings in their bathrooms.
You can see these being used in:
Industrial Buildings
Rest Areas
Town or City Buildings
Schools
Rest Areas
About Ceilings…
It is considered a pro that Floor-to-Ceiling Partitions can be installed in bathrooms with a lower-hung ceiling. However, the system doesn't accommodate high ceilings well at all. This could be considered just as much of a con as well as a pro, depending on the height of your bathroom- were it not for one thing…
Bathrooms that have high ceilings can be modified to accommodate this style of partition. This would be done by creating a wall of sorts, coming down from the ceiling to meet the pillars evenly across the top. This gives the entire system a built-in, finished look that can be viewed as far more aesthetically pleasing than having a large open space over the partition.