If you're looking to get a set of partitions that give the appearance of defying gravity, you'd like the look of Ceiling Hung Partitions. This form of partition is constructed exactly as it sounds- from the ceiling.
Companies that go with a wall-mounted toilet system rather than a floor-mounted, one tend to continue the "open-floor" concept with ceiling-hung toilet partitions. This leaves the floor completely open for maintenance and provides a more modern appearance to restrooms.
The pilasters suspend from the ceiling, holding up the doors and wall panels, with all panels, doors, and pilasters ending flush within a foot up from the floor. This gives a uniform appearance across the base of the toilet partitions.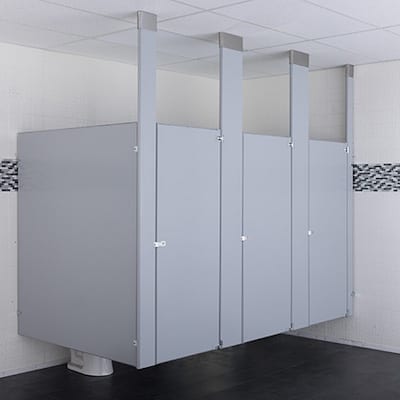 Pros and Cons of Ceiling Hung Partitions
If there were a perfect solution across the board, there would only be one kind of partition. However, circumstance, requirements, or set of tastes differs from place to place.
With each toilet partition type, there are sets of pros and cons. These are wise to have a look at before making a purchase, to help determine which partition style would be best for your building.
Ceiling Hung Partition Pros
They are a janitor's dream. No floor contact combined with the provided space from the floor to the base of the unit makes it less work to swing a broom or a mop around. Fewer obstacles in the way make for a quicker job.
The flush appearance gives off a more futuristic appearance, or at the least a more interesting look-at piece for people entering the restroom.
Some Cons for Ceiling Hung Partitions
Structurally, you need heavy (preferably steel) supports to attach to, as the hung pillars will be supporting the weight of the partitions with no assistance from the floor. This style of partition is not recommended for restrooms that do not have a sturdy overhead support system.
Not a good choice for heavy traffic or graffiti-prone areas. When this style of toilet partition is used as intended, there isn't a problem. But when people begin testing its limits, the unit can wind up heavily damaged or on the floor.
The size of the pillars differs throughout the length of the system of units. Restrooms that need to utilize smaller spaces per stall would have a hard time with installation under 30"-31" wide per stall.
Who Uses Ceiling Hung Partitions?
Because of the limitations inherent in the Ceiling Hung Partition style, the types of places you'd find them would generally be smaller, and less busy. Office buildings, fancier types of restaurants, anywhere where the general public doesn't come in and out frequently, or where the risk of damage through vandalism or graffiti is low.
Small office buildings: Law offices, doctor's or dentist's offices, etc.
Measured Use within Industrial Buildings: This style would be an attractive addition to an industrial building's front offices. However, it may not be a good idea to use them on the industrial side of the building.
It should be noted that, yes, structurally, the Ceiling Hung Partitions are not as rigid as other types. But that isn't to say that they are fragile. When hung correctly and used correctly, they are stable and rigid enough to serve their purposes for years to come.