Among all the different styles of toilet partitions, the Floor-Mounted Partition is among the most popular. There are several reasons for this, chief of which would be the simplicity of the design and its universal appeal.
A Floor-Mounted Partition is a bare-bones option if you were to compare it to other, more complex styles of mounting. Pilasters are bolted into the floor, wall panels and dividers are mounted to the wall, and voila! Mount the doors and that's all there is to it.
The finished product provides a sharp appearance, with all the pilasters, doors, and panels aligning uniformly across the top of the unit.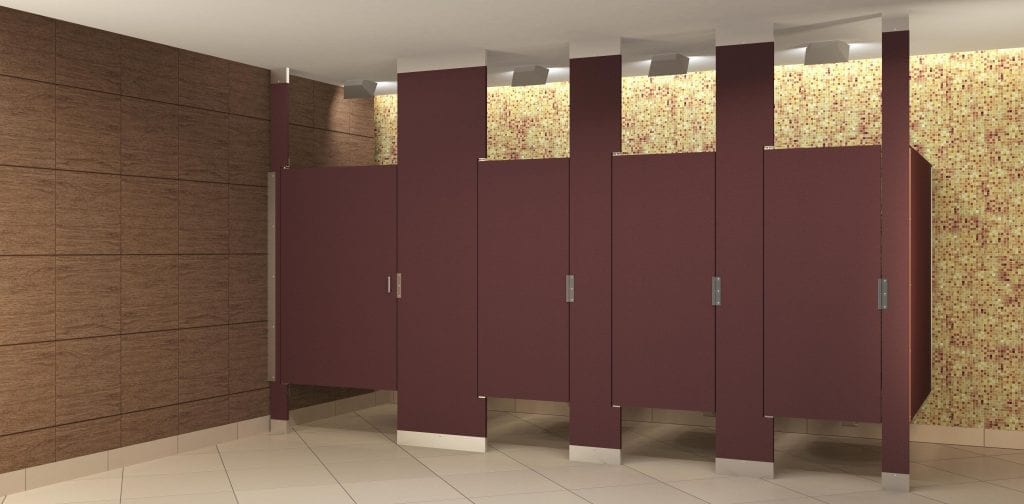 Floor-Mounted Partitions- Pros and Cons
This is a style that is meant to do nothing more than get the job done. For some designers, that's all one could ask for. For others, perhaps they may be too basic for what they have planned for the building.
Because every designer, engineer, or project manager has their own set of criteria, it's good to know the pros and cons of a product. Here are some benefits and drawbacks for you to check out while deciding on which style would be best for the building, you're interested in.
Pros of Floor-Mounted Toilet Partitions
This is an easy-to-install toilet partition. There's no drilling, matching, or mounting across the ceiling as one would with other forms of partition, making this selection quick work.
Because most commercial and industrial buildings' restrooms have a concrete floor, this is a great option and is held firmly once fully assembled.
Being floor-mounted, there are no overhead concerns. Ceiling height is not a factor as it may be with other styles, adding to its universal nature.
This is often considered to be the cheapest option available because of its ease and speed of construction, and fewer manufactured parts.
Cons of Floor-Mounted Toilet Partitions
This style of partition is not recommended for buildings that do not have concrete floors in the restrooms. The major stability factor is being bolted down to the floor. The weaker the floor material, the less stable the unit would be.
Due to a lack of support across the top of the unit, Floor-Mounted Partitions are not recommended for heavy traffic areas or anywhere that is prone to vandalism.
Who Uses Floor-Mounted Partitions?
Floor-Mounted Partitions are a popular choice for a lot of buildings, mainly due to their price. Though the design is simple, it can be just as appealing to the eye as other, more complex systems depending on the materials selected or colors used.
Industrial Buildings- You'd likely see these installed in industrial settings, perhaps situated in restrooms located off a production floor.
Shopping Centers- Though these are not recommended for high-traffic areas or areas that are prone to vandalism, their price and ease of construction (as well as ease of post-assembly adjustment) are reasons why Floor-Mounted units are popular among these kinds of places.
Rest Rooms in Town or State Buildings- This would apply to newer buildings, as older ones may not have the right type of flooring available. An old Town Hall, for example, may have a wooden floor rather than a concrete-based floor.
Floor-Mounted Partitions are a cost-effective option that does the job well and still looks good doing it.