In this article, we will be comparing two vendors: Privada Partitions vs. Thrislington Toilet Cubicles. These are only two out of many different companies that are always out to catch the attention of engineers, purchasers, and building owners. 
When an average Joe heads to the bathroom stalls in a commercial or industrial building, he'd likely have no idea about the competition that exists between several different stalls and partition vendors. People who have nothing to do with the industry would be shocked to learn how competitive businesses are to furnish bathrooms worldwide. 
Businesses structure themselves to meet or exceed standards and requirements, hoping to win bids over their competition. Because of this, many of these competitors wind up having similar types of products but offer different materials, sizes, hardware, or services, to stand out differently than the rest.
As we check out Privada and Thrislington, we're going to see similar stalls made by similar companies. However, despite their similarities, there will be plenty of differences that make these two companies unique.
So, let's get into it by getting to know a little about both companies and learning what they have to offer.
Privada Partitions
Privada Partitions is the cubicle division of Bobrick Washroom Equipment. Bobrick is based out of North Hollywood, California, and has been in business for over 100 years.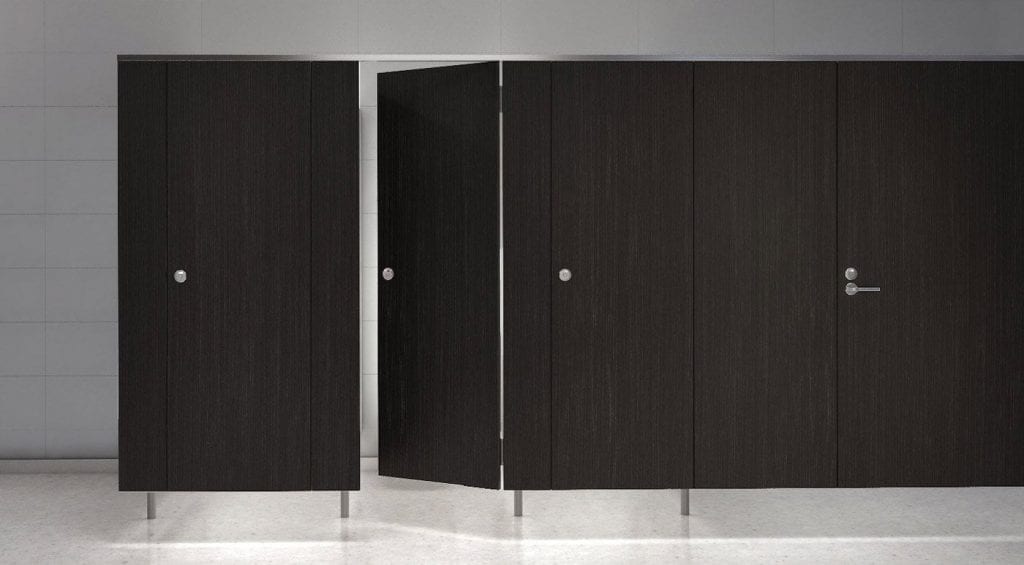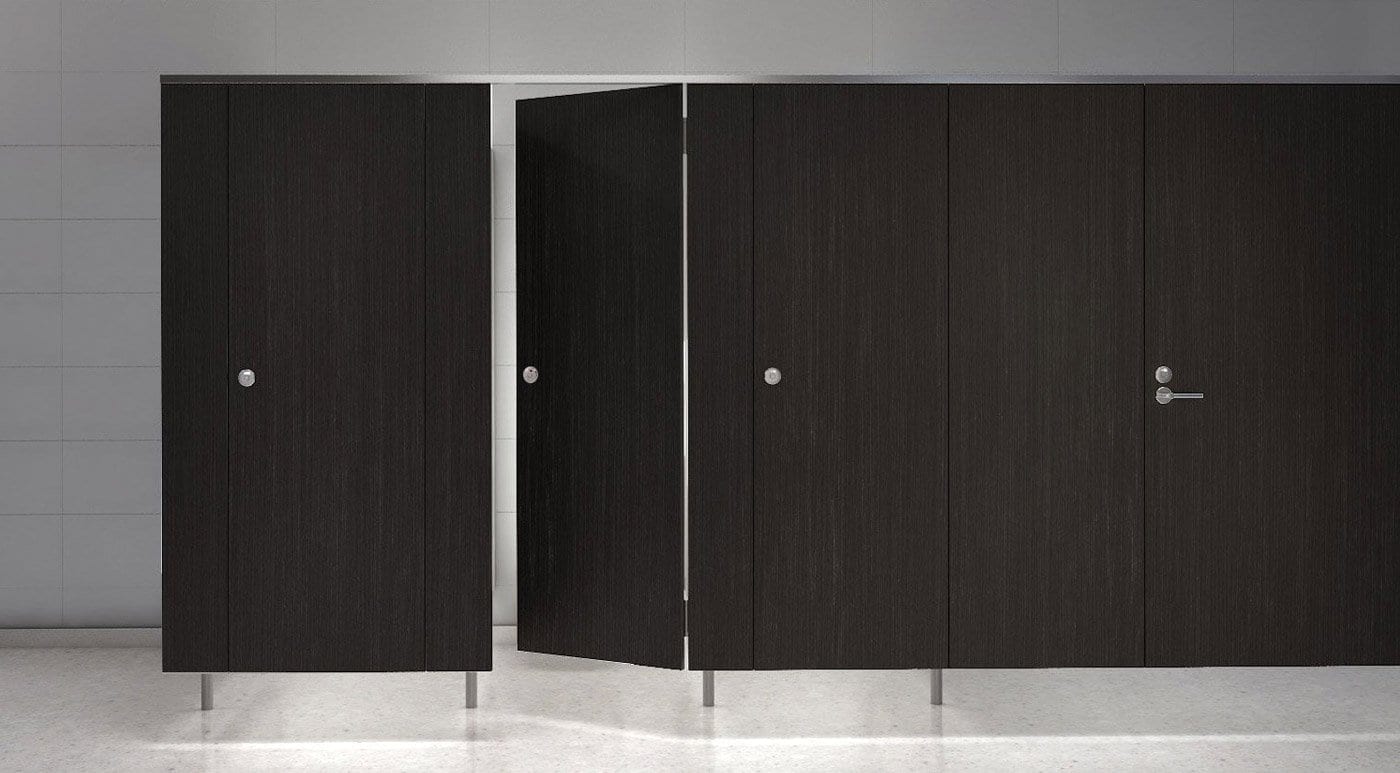 Materials Used for the Partitions and Doors
All hardware aside, Privada makes their partitions out of high-pressure laminate (HPL) and Wood Veneer Laminates. They focus on building out of these two particular material types because they are scratch and dent resistant than the other, more commonly used materials such as powder-coated steel panels, HDPE, or stainless steel.
HPL and WVL panels are also more graffiti resistant than the others. Unlike Stainless or powder-coated steel panels that use a honeycomb-type cardboard spacer inside its walls, the panels made by Privada are solid 1" thick particleboard.
25 different color and pattern choices are available with the wood veneer laminates, and 34 colors and patterns are available for the high-pressure laminates.
Hardware
All hardware that is used for any style of partition produced by Privada is made out of stainless steel.
Partition and Cubicle Styles
When dealing with the height of a partition, Privada has three options to choose from when it comes to the partition style- Private, Floating, and Tailored.
Private is a floor to ceiling design, with any line of sight removed from the design that offers 100% privacy.
Floating is a design with the foot pedestals recessed away from the face, giving it the floating appearance. The height is customizable, but the floor to panel base can range between 4" to 9" (depending on the buyer's preferences).
Tailored is a completely customizable option. The hardware, finish, and height are all up for grabs with this option, meant to either satisfy a customer's particular needs or conform to out of the norm situations.
Thrislington Cubicles
Thrislington Cubicles is based in Flintshire, Wales, and has been in business for over 50 years. Like Privada, Thrislington is also a division of Bobrick Washroom Equipment.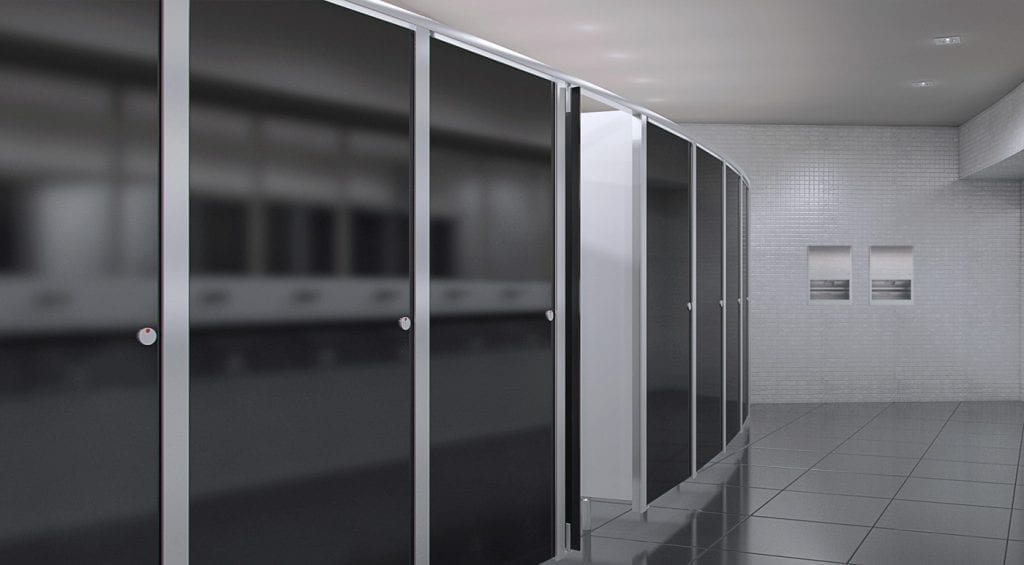 Thrislington concentrates its efforts on serving European nations and fabricates the European styles of cubicles.
Materials Used for the Partitions and Doors
Thrislington uses a wide array of base materials for their cubicle systems. Among which are Glass, Stainless Steel, Aluminum, Acrylic, HPL (High-Pressure Laminate), Wood Veneer, and CGL (Compact Grade Laminate).
Aluminum, HPL, and Wood Veneer paneling is available for all types of partitions produced by Thrislington. But the glass, Stainless Steel, CGL, And Acrylic materials are limited to different styles (See "Partition and Cubicle Styles" below).
There are dozens of different patterns and colors to choose from for every material type involved. Their website covers many of the most popular choices available. Still, to get your hands on a full list of the available colors that pertain to specific materials, you'd need to contact the company.
Hardware
All of the hardware that is available from Thrislington can be either aluminum or stainless steel. Despite which material the hardware is, you have the option of having it powder-coated to match or contrast with your panel color.
Partition and Cubicle Styles
Thrislington Cubicles has four major styles to choose from. The four styles are Flow, Ribbon, Oasis, and Icon.
Flow is a floor to ceiling system that incorporates hingeless doors on a pivoting system that ensures that the doors will be closed at all times. Materials available for this style are glass, stainless steel, aluminum, wood veneer, and laminate.
Ribbon style is a floating design- meaning that the foot is set back from the unit's face. Like the Flow series, a pivoting door system is used, but the Ribbon style includes a hydraulic door closer. This prevents the door from closing too quickly and allows it to close in a controlled, stylish way.
The materials available for the Ribbon style are acrylic, wood veneer, aluminum, and laminate.
Oasis gives the appearance of a system that is floating in the air. The aluminum frame supports the system from the top with no supports connected to the ceiling, and recessed footing to give the appearance of no base support.
The pivoting door with the hydraulic door closer is included in this design. The available materials for the Oasis style are glass, wood veneer, stainless steel, and laminate.
Icon is considered to be the "all-rounder" style of the four types. It is held together by a simple exposed aluminum frame, alongside aluminum fittings.
Like the previous three, the self-closing pivoted door style is used rather than hinges. But for the Icon style, it uses a floor-mounted rise and fall closer.
The available materials used for the Icon style are glass, aluminum, compact grade laminate, and standard laminate.
Conclusion
These are two large businesses; both being owned by one larger business. Between the two, which of these is better?
Well, if you're in the Americas, and your needs are more modest in size, Privada would be the best choice. Upon inspection of the different jobs they put on display, none of them are giant-sized structures but are smaller-scaled buildings.
On the other hand, if you're in Europe, it would make more sense to go with the company specializing in European style units. In this case, Thrislington would be the choice.
And the winner between these two businesses? Well, the winner would actually have to be Bobrick Washroom Equipment.