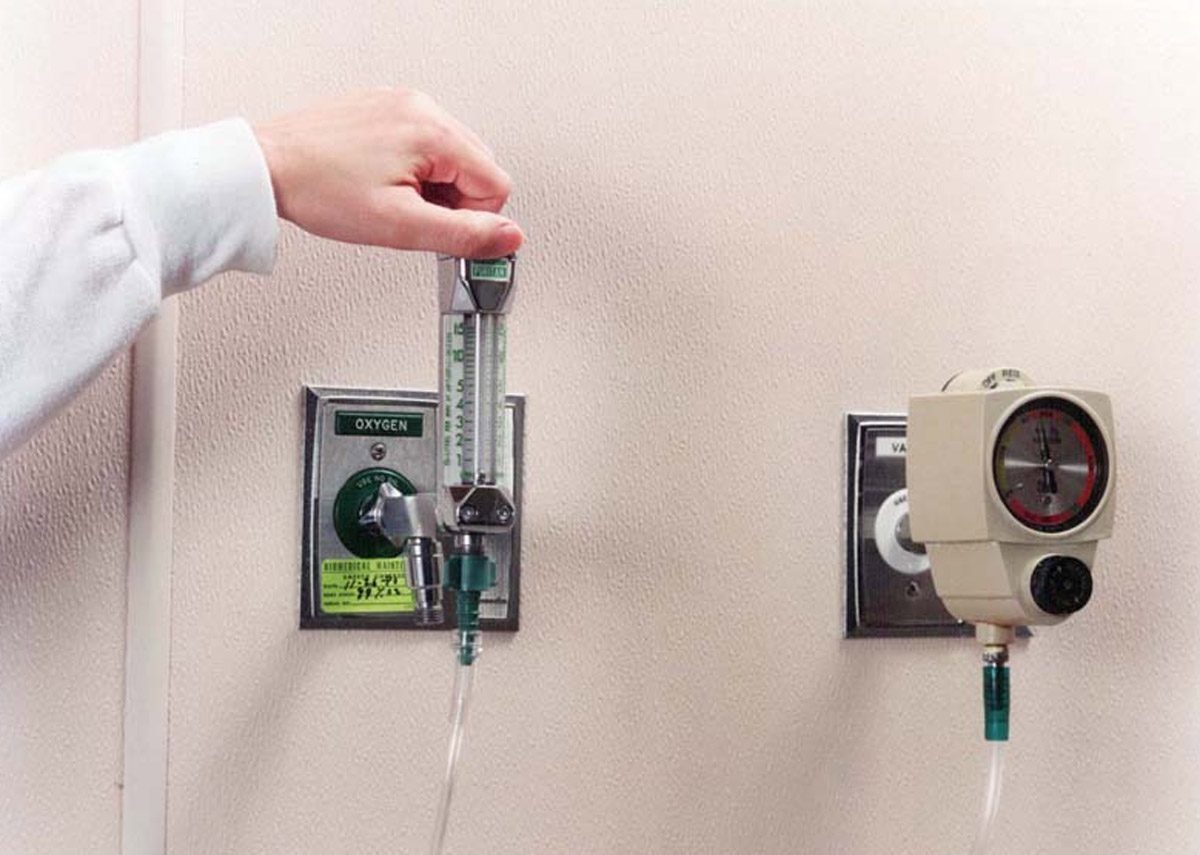 Marlite Wall Panels & Systems
Marlite specializes in decorative wall panels and other related specialty products. Their wall systems can be found sprucing up commercial and industrial buildings across the United States and beyond.
On a personal level, appearance isn't everything. But on a commercial level, appearance can help to either make or break a business.
Little can convert the walls of an older, bland commercial building like being topped by versatile interior wall coverings. Patterns, pictures, or a variety of colors can wind up covering an otherwise boring space via Marlite's selection of Product lines.
Marlite Wall Panels
Before checking out Marlite's array of products, allow me to introduce you to BlueSky. BlueSky is Marlite's state-of-the-art digital printing system, which is what they use to print chosen designs, pictures, patterns, logos, etc., to their product's material.
BlueSky prints at 600 DPI (Dots Per Inch), using 80,000 print nozzles.
Artizan Digitally Printed FRP
Artizan printed FRP (Fiberglass Reinforced Panels) come in either 4'x8' or 4'x10' by 3/32" thick sheets. The printed FRP is coated with a tough, durable topcoat to protect the product's surface and prevent damage to the printed images.
A customer can choose from over 200 standard designs, or upload a photo or custom image- scanning is also available.
View Artizan Brochure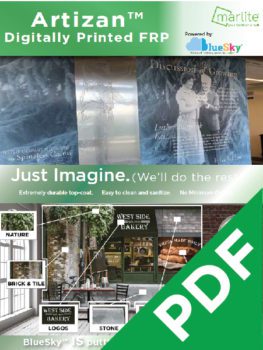 Symmetrix SmartSeam FRP
Two major differences make Symmetrix stand apart from other Marlite FRP sheets.
First, the sheets are printed to resemble the best of tile, marble, granite, and other attractive materials. Second, the ends of each sheet are finger-locked, creating a seamless appearance, and eliminating the need for division molding.
Brochure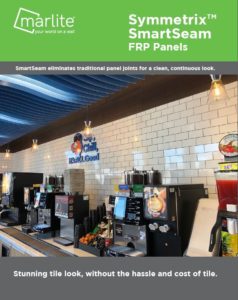 Digitally Printed Planks
Marlite also has an extensive product line of interlocking wainscoting. Like the FRP, the wainscoting can be printed via their BlueSky printing system.
Their interlocking wainscoting systems measure 16"x8'x1/4". They also sell wainscoting in full-sized 4'x8' and 4'x10' sheets but are not interlocking.
Brochure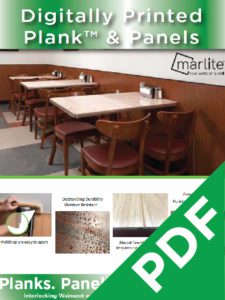 Volta Dimensional Flex Sheets
If you want to add some depth to wall space, Volta Dimensional Flex Sheets will do the job. These are 4'x8' thermoplastic sheets that are lightweight and flexible. The material's surface hardens after installation.
This line has a selection of 3D patterns to choose from, adding texture with a touch of imagination to a room or hallway.
Service Wall Panels
Marlite service wall panels boil down to four different sub-products. They are Standard FRP, Induro HPL-Faced FRP, Slatwall, and A3 Ceramic Steel. For detailed information on these sheets of material, check them out at Marlite.com.
Marlite Wall Systems
Marlite has four specific wall systems in place to simplify and satisfy customer needs. They are Transforming, Myriad Translucent, Sieva Large Panel, and Modules Shiplap, systems.
Transforming
The heart of this system is MDF (Material Density Fiberboard). Using this material, a customer can choose a wide range of finishes and can also add depth to patterns for a unique, sophisticated appearance.
These panels can transform a flat wall into a myriad of geometric shapes. Depending on the selected pattern, the variations can go up to 2 ½" deep.
Each panel can be removed and replaced individually, enabling easy repair and replacement without displacing or damaging surrounding panels. Also, this system offers 4 options for reveal joints. 1/16" hidden reveal, ¼" narrow reveal, ½" channel reveal, and the combination channel reveal.
Myriad Translucent
Marlite's Myriad Translucent product line is evenly backlit panels illuminated by LED lighting. These panels can be as small as 12"x12" or as large as 48"x48". The panels ship fully assembled for easy installation.
These are a great addition to rooms or hallways that could be considered dark, or simply brighten up poorly lit areas. Though these panels are ideal for backlighting a space, they add an eye-catching and unique appearance to any indoor environment.
Sieva Large Panel Wall System
The Sieva large panel wall system is made from High-Pressure Laminate (HPL) with MDF at its core. In total, these panels are 7/16th thick, granting a heavy and rugged appearance.
Panels can vary in size to order, with the largest being full 4'x10' sheets. Color, pattern and finish options for the HPL are plentiful, being supplied by Wilsonart, Nevamar, Pionite, and Arborite.
These panels are perfect for high-traffic areas, often found lining the corridors and hallways of public buildings such as hospitals, schools, large churches, and auditoriums. The tough exterior of the HPL backed by the rigidity of the MDF (Medium Density Fiber) is the right combination to remain protected from any day-to-day wear.
Modules Shiplap Wall Panels
The Modules Shiplap panels are meant to open up options, where designs can be made through a variety of different-sized and colored panels. There are 15 standard sizes to choose from, each being ½" thick, tongue-and-groove, medium-density fiberboard.
Because of the tongue and groove joinery, there's no need for any trim. Panel sizes can be mixed up to form unique and creative wall-covering ideas, as different finishes can be used to accentuate a design.
Reveal joints surrounding the panels can be either squared or have uniform ¼" chamfers. Both veneer finishes and graphic finishes are available for this system, leaving open all possibilities and design choices via Marlite's BlueSky finishing system.
About Marlite
Marlite's history goes back quite a way, being founded in the 1930s. In 2013, Marlite was purchased by Verzatec. Verzatek leads the industry in manufacturing and sales of interior and exterior fiberglass-reinforced plastic laminates, polycarbonate sheets, and panels for the building and transportation businesses.
Marlite currently employs over 200 employees and has distributors all over the United States.
Final Thoughts
The looks and design of a business interior can do a lot of things for potential customers regardless of the nature of the business. Marlite gives businesses the options necessary to be as creative or as business-centric as an owner wishes to be.
Their BlueSky graphic finishing system opens the gates to allow an architect's vision to be realized quickly, predictably, and repeatedly. And if that's not what is wanted, the array of colors provided by vendors covers any solid or revealing finish one could think of.
Older interiors can once again look as good as new, and new interiors can be just about anything you'd want them to be through the systems and also the singular products available through Marlite.