The year 2020 has certainly proven that shopping online can be worthwhile. None has done it more securely than those who have received their items through a parcel delivery station.
Because of the need to make online purchases to meet the needs of those under quarantine, delivery services have exploded. With the delivery industry's growth, so has the necessity for parcel delivery stations that make sense for particular situations.
Table of Contents
Who Needs a Parcel Delivery Locker Station?
If you've got your own mailbox at the end of the driveway, it's unlikely you'll need or use a parcel delivery station. These are usually things either incorporated within or meant to replace a mailroom. However, there are single units available out there.
Places that benefit from parcel delivery stations are colleges, businesses, multi-unit rental properties, community parks, retail, and other places where mail or packages are delivered to a central location. With the health concerns brought to light via covid, business and property owners have begun replacing manned mailrooms with smart package lockers that keep person-to-person contact to a minimum.
Also see: What is a Parcel Locker?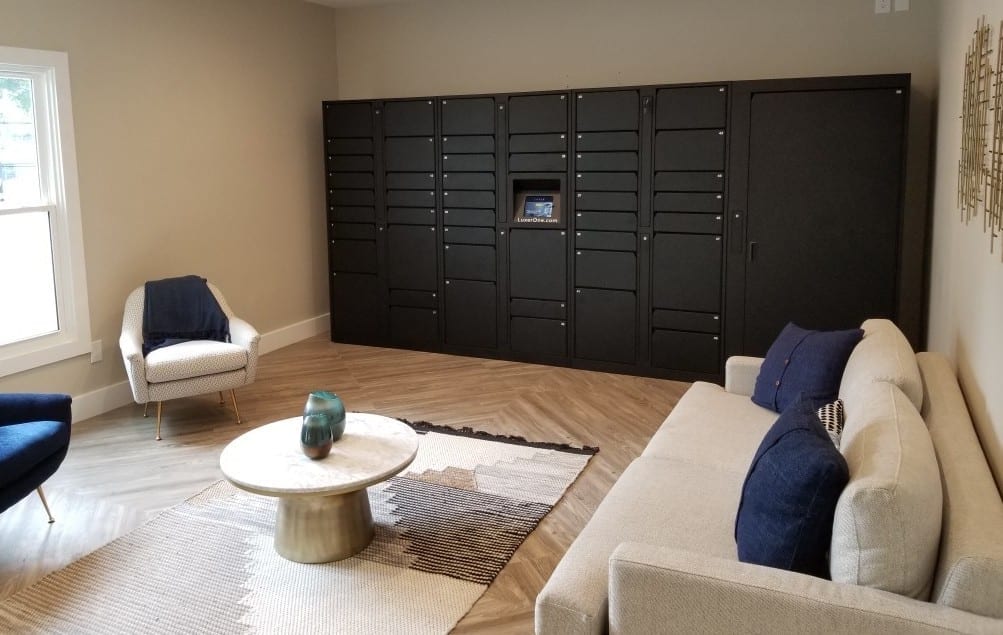 9 Best Parcel Delivery Locker Station Companies to Check Out for 2022
Below is a list of the best companies to check out if you're interested in learning about what they have to offer relating to keeping your packages safe until you get your hands on them.
Luxer One
Luxor One is a manufacturer of indoor and outdoor package lockers, controlled access rooms, and commercial refrigerated units for perishable goods or packages. Their parcel lockers are made from powder-coated 12-gauge steel with any customized color, wrap, or branding available.
This company is unique in that its units are designed to be easily modified in the field should changes need to be made down the road. Their modular doors can be changed out, meaning if different-sized compartments are necessary, they don't require much more than swapping them out on the spot.
Their indoor and outdoor units come with a user-friendly interface, 24/7 cloud-based surveillance, internal hinges, and handicap accessibility.
Amazon Hub Apartment Lockers
Amazon Hub lockers can be used by anyone. A unit can be rented for a building by owners, or people can utilize one of these hubs in any of the 900+ cities where Amazon has made these available.
The process is simple. You place your order via Amazon and select to have it delivered to the hub closest to you. Upon delivery, you are sent a verification containing a passkey to open the door and retrieve your item.
Locktec
Locktec is a manufacturer of either indoor or outdoor mobile pickup stations, delivery stations, and transfer systems. Their Servicebox system is geared particularly toward package delivery and collection.
Their service is open to multi-carriers, so you are not bound to have packages delivered by one specific company. The click-and-collect system remove the need for any person-to-person contact and is fully animated. When your package arrives, you are notified, and given the passcode required to open the door.
When you get there and enter the code, whichever door the package was placed in opens allowing you to retrieve the package.
DHL PackStation
DHL has expanded successfully over the years, rivaling UPS and Federal Express in many places, including the US. In Germany, they provide a service for apartment buildings similar to that of Amazon Hub. DHL Packstation not only allows you to pick up packages via push notification, but you can also place packages into a package locker for shipment.
As for now, DHL seems to have kept its Packstations within the boundaries of Germany. But who knows, perhaps one day they'll extend this service.
Package Concierge
Package Concierge builds units that do everything that the others do but focuses mostly on "BOPUS" services. BOPUS (Buy Online Pickup in Store) shopping caters to people who want to steer clear from covid 19 for now.
Under normal circumstances, the elderly, handicapped, or people who suffer problems with inhibited ability to roam around in a store are served best through this shopping method. However, people are finding it more convenient to show up, scan a barcode on their device representing a previously made order, have a locker door pop open so they can grab their things, and head back home.
Southwest Solutions Group
Southwest Solutions Group makes an enormous selection of different lockers, package lockers, inventory storage and retrieval systems, and more. If it needs to store something, grab it and give it to you, or take it and put it away, this company makes it.
As far as the topic at hand goes (parcel delivery stations), they cater to all of the usual suspects. Condo, residential, corporate, university, and commercial needs are remedied through their smart package lockers' line.
SpaceSaver
When you look at everything that SpaceSaver has on display, it makes you feel like they focus more on catering to large, indoor purposes. But they do specialize in apartments, condos, or any type of multi-unit facility- not just the universities and arenas.
It is also apparent that aside from function, they have a stronger eye toward making their units more aesthetically pleasing. Though all the companies in this list customize their units, SpaceSaver gives off a sense that they're trying to create units to blend in, as if being part of the furniture.
Parcel Pending
While SpaceSaver units could be the prettiest, Parcel Pending units are the most secure. These locker units come equipped with photo capture software that catches a glimpse of anyone who comes around to deliver or pick up a package and cloud-based surveillance.
They offer different skins to fit over the reinforced steel powder-coated construction to blend the units in with whatever scheme you already have going on. They cater to solve multi-family, retail, commercial, or university package needs.
TZ Smart Lockers
When you head to the TZ Smart Lockers website to see what they're about, it doesn't take long before realizing they concentrate their efforts on the technology applied to their locker systems. As most of these parcel delivery station companies have various options concerning smart features, TZ Smart Lockers boasts customizing needs from customer to customer. The norm tends to be differing in technology between structure or business types. In this regard, TZ has the most customizable features out of the rest on this list.
Why No Prices?
Regarding the majority of the manufacturers above… These are not units that you can stick your finger in a catalog and place an order. These businesses build their units to satisfy individual customers' direct needs, and there are too many variables to set prices.
To give you an example of how touchy the pricing can be, the Amazon units can range between $10,000 – $20,000, depending on how many doors or sections your purposes require. That doesn't include adding, subtracting, or modifying existing AI features as other manufacturers offer.
The bottom line is- if you want to know how much these would cost you, take the time to get yourself a solid quote for a unit that will be built to the specs you want.
Final Thoughts on the Best Parcel Locker Systems
AI is all over the place. We can have our home security systems know when we pull in the driveway, turn on the lights for us as we approach the house, let us in, and lock the house back up as we go to bed. All kinds of things are being done for us through AI, and most of them are things that we could probably be just fine doing ourselves.
However, in dealing with packages, saving time, saving money, cutting off the potential for spreading sickness, and more enjoyable customer experience, AI at play in the parcel delivery stations is a game-changer in the shipping industry.