Automatic Flush Bolt Doors
FX Series Auto-Latching Flushbolt Panel
Advanced functionality, neat and trim appearances, clutter-free aesthetics- such is what one would say to describe Syntegra's FX Series auto-latching flush bolt system.
Syntegra's FX Series Auto-Latching Flush Bolt Door System focuses on securing an unused side of a pair-door system by smoothly inserting a lock bolt through the frame's header upon closing, and is installed within the top of the inactive door. Regardless of which side is being opened or closed (unlike conventional systems), the FX Series distributes positive latching however the sequence might be. Both doors of a pair-door system become usable when the active door causes the flush bolt to retract.
Typical Applications
The following applications apply when the FX series is included in XT, PX, and LX systems while being incorporated into the active door of standard or unequal pair-door systems.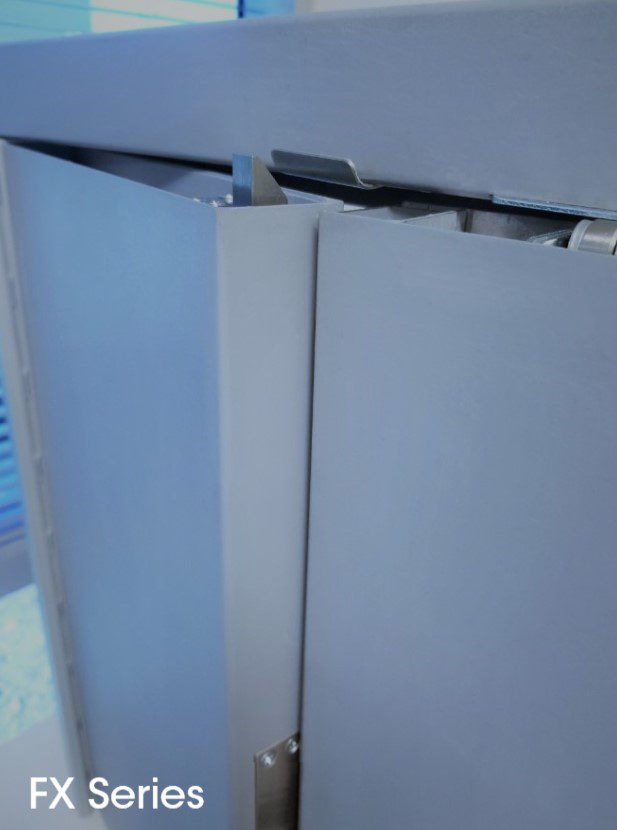 Building Types or Applications
Offices- Elevator access routes
Hospitality- Lobbies, Elevator access routes
Miscellaneous Uses- Elevator access routes, cross corridors, hallway section divisions, or similar means of access
Industrial or Commercial Uses- Unequal pair door openings, elevator cab or hoistway protection
Features
Installed in the closed side of pair-door
Fully compatible with PX, LX, and XT systems
SS Latch bolt with a .75" throw
Trigger contact promotes latch bolt engagement within the active door side
No door coordination is necessary- the system remains self-latching
When the active side is opened, the system automatically unlatches
Included is a curved lip T-Strike
Paintable 630 Satin Finish Stainless Steel Faceplate
UL10C 3hr fire-rated single-point top latching hardware with supporting fire pin
Automatic Flush bolt that satisfies ANSI/BHMA Type 25 standards
Unequaled Aesthetics
All hardware is concealed within the door structure
Exterior or unconcealed door coordination hardware becomes a non-entity, no longer needed for the system
There is no longer any need for latching hardware to the floor, as the top latching mechanisms meet fire standards
The faceplate is paintable, able to be finished to match an existing décor